Private Networking
---
VPN (Virtual Private Network)
Virtual Private Network is an outstanding connectivity resource for enterprises or businesses with small and large setups. This technology obviously has far reaching and surplus advantages as compared to others – a predominant one of which is the large assortment of wireless local area networking.
Tele1ten Virtual private network (VPN) has meticulously worked and has come up with a safe and seamless connectivity for short / long distance calls. As a result, we can today implement and manage exemplary and secure networks over IP infrastructures. When you have IP VPN, which is the Virtual Private Network based on Internet Protocol, you not only secure exchange of your sensitive business information but also can ensure a relentless flow of such data across IP networks. These days when your internal data is prone to be hacked or lacerated, you can simply rest assure on Tele1Ten's VPN and concentrate on business growth.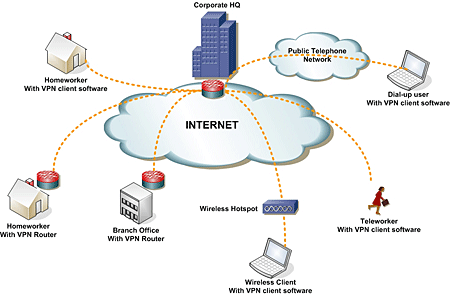 MPLS (Multiprotocol Label Switching)
Multiprotocol Label Switching (MPLS) is another futuristic solution from Tele1Ten Inc. This helps you build even more advanced intelligent networks and embrace a single infrastructure with numerous value added services. This simple to adopt and economic solution can be incorporated over your prevailing infrastructure, whether you got an Ethernet, Frame Relay, ATM or IP.
Better aspect for you here is that you don't have to make any specific alteration in existing environment as various access links can be combined on an MPLS edge. This is because MPLS is liberated from access technologies. MPLS erstwhile appeared as an outstanding aid to expedite router speed; however, we got to witness its far advanced capabilities used by IP networks on a large scale.
MPL (Metro Private Lines)
To cater high end application demands with technological brilliance, Tele1ten presents MPL or Metro Private Line. This solution encompasses numerous bandwidth options – right from OC-3 to OC-192.
Regardless of the type of traffic in your business, we have developed a solution to rightly concur with variety of demands, be it the multimedia, voice or video. Moreover, we have blended our design and construction expertise with our professionals' wisdom on proprietary market. Consequently, we could present a solution that can meet your specific demands and help you meet precise business objectives.
Our network infrastructure is spread across all international metropolises, thus touch basing with numerous clients from almost all the industries.